Capitol Reporter
Affordable-home and homelessness policy news from the halls of the Capitol
February 2020
"...with patient and firm determination we will press on until every valley of despair is exalted to new peaks of hope, until every mountain of pride and irrationality is made low by the leveling process of humility and compassion; until the rough places of injustice are transformed into a smooth plane of equality of opportunity; and until the crooked places of prejudice are transformed by the straightening process of bright-eyed wisdom."
- Martin Luther King, Jr.
As we commemorate Black History Month, we invite you to take a moment to remember that so much of our country's history involves the struggle for equal opportunity, a struggle that persists today. We know that African Americans have always made vital contributions to all our communities, and that we are all better off when everyone has an affordable, stable place to live in vibrant, inclusive, and prosperous communities. That's why Housing California will keep pushing for policies that changes people's lives, and why we do it by centering the people who know what it means to experience -- and overcome -- oppression and injustice. We invite you to join us in creating our California with homes and prosperity for all.
In this month's newsletter, you'll get a sneak peak of our CA Roadmap HOME 2030 initiative, learn how to plug into Housing California's March 19 Lobby Day and April 14-16 Our Homes. Our Voice. Our California 2020 Conference, read about our 2020 policy agenda, get big housing and homelessness news from the state capitol, learn about jobs helping the Census count all Californians, and catch up on the latest action from our statewide, grassroots Residents United Network (RUN).
A Roadmap for Affordable Housing and Homelessness Solutions
Hot off the presses - On February 11, The Legislative Analyst's Office released a report -- The 2020-21 Budget: The Governor's Homeless Plan -- focused on his January budget proposal to address homelessness. We were thrilled to see that the report highlights the need for a comprehensive, long-term plan and framework for the State's response to homelessness.
It's like the LAO was reading our minds. Housing California is co-leading a statewide initiative with the California Housing Partnership to develop -- and implement -- a bold, comprehensive framework of evidence-based housing and homelessness solutions at scale. The sheer scale of the need -- millions of low-income Californians paying far too much for rent and hundreds of thousands experiencing homelessness every year -- calls for just that.
Stay tuned for more on the Roadmap HOME -- coming soon.
Join Our March 19 Lobby Day in the Capitol
Housing California and RUN are holding our annual Lobby Day on March 19, and registration will close soon. We invite you to participate in one of the three following ways: RUN resident leaders can register for free, staff at nonprofit partners can use the paid registration, and those who aren't able to attend in person can donate to ensure that others can. In addition to a rally and press conference on the south steps of the Capitol, RUN residents and partners will visit all 120 legislators in their offices in the Capitol building. This year, because the Housing California conference will take place in April in San Diego, Lobby Day is a separate Sacramento event, happening a month early. Join us!
Attend Housing CA's April 14-16, 2020 Annual Conference in San Diego
Early Bird registration will close soon and hotel rooms are filling up fast, so don't miss your chance to get discounted tickets and a place to stay. See our new conference site, conference.housingca.org, for details.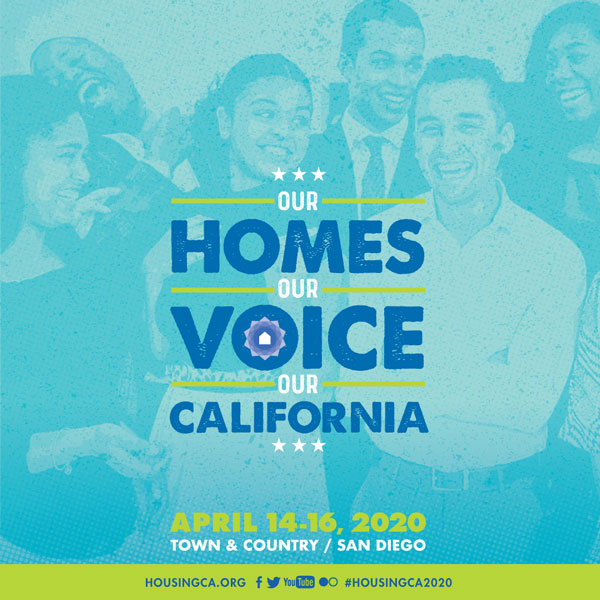 Check out Housing California's 2020 Policy Priorities
As the legislative session gets underway, Housing California is leading and supporting a number of significant affordable housing and homelessness bills, with more to come as we hit the bill introduction deadline on February 21st.
Our sponsored bills include:
AB 1845 (Rivas) to create a Homelessness Office of the Governor
AB 1907 (Santiago) to exempt permanent supportive housing and key affordable housing programs from the California Environmental Quality Act
AB 2329 (Chiu) to assess needs and gaps in state programs addressing homelessness
SB 282 (Beall) to provide supportive housing for parolees with severe mental illness
SB 361 (Mitchell) to clean up the Health Homes Program
ACA 1 (Aguiar-Curry) to reduce the local vote threshold to approve affordable housing infrastructure bonds
SCA 1 (Allen) to repeal a requirement for local voter approval for affordable housing development known as Article 34
Read more about these bills -- and other bills and budget asks we're currently supporting -- by visiting our website here.
Get State Updates Here
The Governor's Budget Proposal
Housing California has been working in close partnership with our allies to advocate for significant state investment in a flexible fund to address homelessness. More than 100 organizations have signed onto our letter requesting a $2 billion ongoing allocation. (To join our letter, please email Christopher Martin at cmartin@housingca.org.)
On January 10, the Governor announced his proposed 2020-2021 draft budget. Housing California was pleased to see that his proposed budget aligns in part with our 2020 budget advocacy including:
Continued investment to address homelessness, including $750 million for the California Access to Housing and Services Fund (created by executive order on January 8) and $650 million for services through the Medi-Cal Healthier California for All
Second year expansion of $500 million of the Low-Income Housing Tax Credit Program that we fought for our with our affordable housing partners across the state
Exploration of creating a new Housing and Homelessness Agency
Maintaining the Affordable Housing and Sustainable Communities (AHSC) Program at 20 percent continuous appropriation of the Greenhouse Gas Reduction Fund (GGRF) -- at least $468 million. We fought long and hard for AHSC in 2014 with our Sustainable Communities for All Coalition (SC4A) and have continued to protect ever since with SC4A and our investAHSC partners. This is the first budget year in which new rules uncouple the GGRF from requirements to reduce greenhouse gas emissions, so Newsom's commitment to AHSC is all the more noteworthy. Read more here or visit investahsc.org.
Housing California will continue to work with the administration to gather details and advocate for changes to the California Access to Housing and Services Fund to ensure that the governor's bold initiative achieves the greatest impact.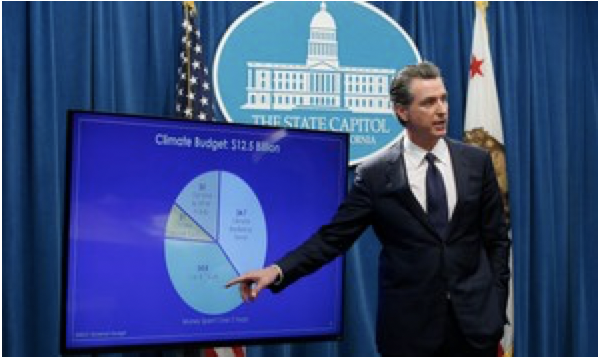 Get Paid (Pretty Well) to Get People Counted
Our Executive Director serves on the California Complete Count Committee and we have advocated for and won significant state resources to support extensive outreach and education as part of the Census Policy Advocacy Network for the past two years, because Housing CA recognizes the critical importance of every person being counted. That includes people struggling the most with housing instability and homelessness.
The federal Census Bureau will hire up to 9,000 temporary employees by the end of February to assist Californians in filling out the census. Starting in May, these enumerators will go door-to-door, to shelters, and to other inhabited locations to ensure every person is counted.
People who have experienced, or are experiencing, homelessness are especially valuable to this effort. They can identify where local residents experiencing homelessness live and connect with those who may be otherwise unwilling to engage with government officials.
Bilingual individuals are also strongly encouraged to apply.
Enumerator positions offer training and flexible schedules, are located throughout the state, and pay between $16.50 and $30.00 per hour. For more information and to apply, go to the census jobs website or call (855) 562-2020.
In addition, the Census Bureau is hiring field supervisors, field representatives, and administrative assistants. Go here for more information.
Check Out the Latest from RUN
The Residents United Network hit the ground running in January with six in-district "research action" meetings across the state -- in Fresno, Oakland, Corona (Inland Empire), San Diego, Elk Grove (Sacramento), and Los Angeles. In these meetings, residents and staff of affordable housing developments met with elected officials to gather intelligence about our legislative priorities for the year. Residents introduced themselves, asked questions, and sought their representatives' perspectives on what's coming on housing at the Capitol. They'll use this information to strategize about our upcoming campaigns.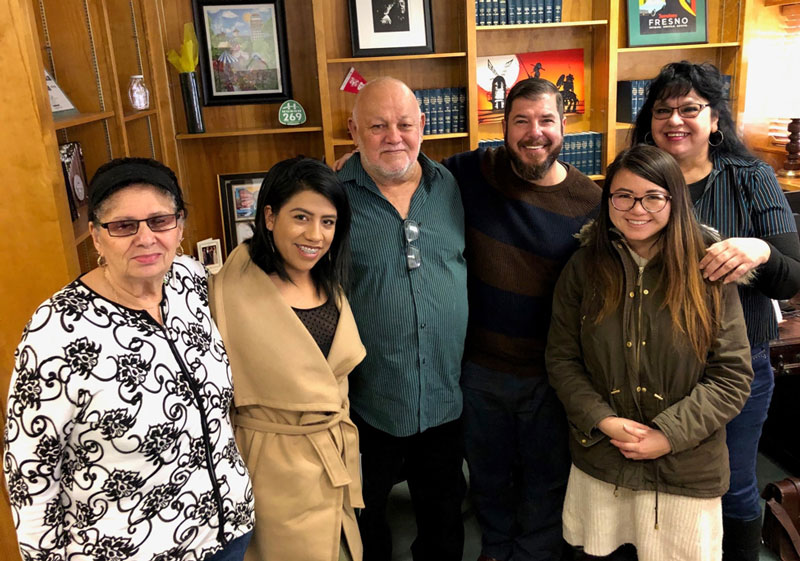 On January 21 and 22, four RUN leaders and two Housing California staff participated in Community Change's Power Building convening in Los Angeles. We are honored to share that our national partner Community Change has taken our seven-year-old RUN model and replicated it in Oregon and Washington. And Louisiana will join the club this year -- four states building a national movement for housing justice. Over two days, RUN leaders and staff connected with their counterparts from across the country, sharing experiences and ideas to bolster our big-picture thinking on how to create a California with HOMES for ALL.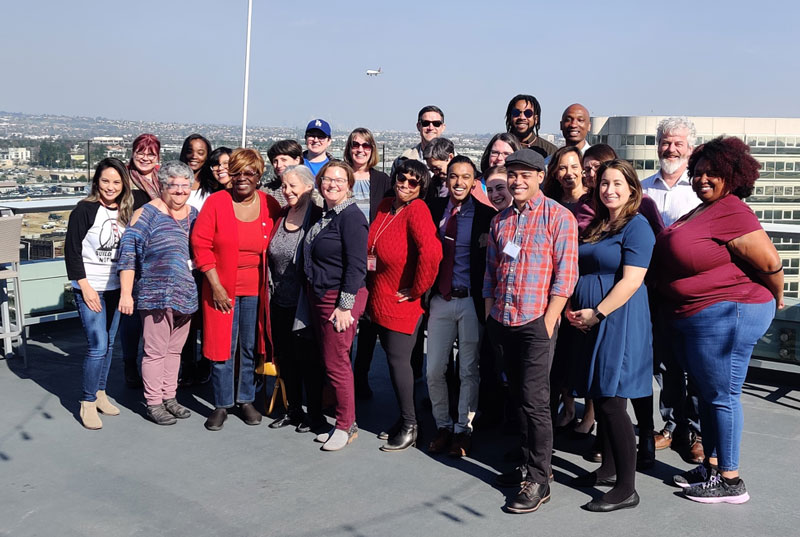 In late February, RUN members will gather for spring regional convenings to prepare for our March 19 Lobby Day in Sacramento. At the convenings, resident leaders and staff will get training in storytelling for advocacy, a strong understanding of RUN's three bills for 2020, and a chance to practice speaking up. They'll also plan for showing up in big numbers for our rally and press conference on Lobby Day. Please register for upcoming convenings at the links below:
February 19: Sacramento
February 20: Orange County
February 25: Oakland
February 26: Los Angeles
February 27: San Diego
February 29: Madera and Stockton
Access Free Webinar Series with DFEH
The Department of Fair Employment and Housing is holding a series of FREE webinars delving into their new fair housing regulations.
The Department of Fair Employment and Housing (DFEH) in collaboration with subject matter experts from the the National Housing Law Project and Western Center on Law & Poverty and other organizations from around the state are pleased to provide a technical assistance webinar series on implementing the first California Fair Housing Regulations interpreting the Fair Employment and Housing Act (FEHA) and new Source of Income law in California.
They will host seven webinars covering topics such as Prohibited Uses of Criminal History Information in Housing, and Source of Income Law. Learn more here.
Contact Us
Housing California
1107 9th Street, Suite 560
Sacramento, California 95814
916-447-0503
staff@housingca.org