Budget Finalized!
Governor Gavin Newsom and the California Legislature finalized a budget and related legislation on July 5, 2019, that provide $2.7 billion in resources to address housing affordability and homelessness. This is the largest General Fund allocation for housing and homelessness in California's history.
The $2.7 billion includes $650 million for the new Homeless Housing, Assistance, and Prevention program, specifically targeted to providing permanent homes, rental assistance, and navigation services to reduce homelessness. The deal also adds $500 million each to the Low Income Housing Tax Credit Program, Infill Infrastructure Grant Program, and CalHFA's new Mixed Income Program to build more affordable and supportive homes for lower income Californians and people experiencing homelessness.
While pleased by the one-time tax credit allocation, Housing California continues to advocate for AB 10 (Chiu). This measure would extend the $500 million increase for five years to provide certainty for developers and investors as they plan future developments.
Housing California, in partnership with Corporation for Supportive Housing, advocated throughout the budget process for an investment addressing homelessness that is grounded in evidence-based solutions. The $650 million incorporated those principles, including a focus on permanent housing, local collaboration, and a longer expenditure period to allow local jurisdictions to invest in longer-term solutions. With a large coalition focused on youth, Housing California also successfully advocated to increase the youth set-aside.
We also commend the appropriations for programs and models we have helped implement or historically supported: $120 million for Whole Person Care, $95 Million for CalWorks Housing Support Program, $25 million for Bringing Families Home for family reunification, and by-right development of low barrier shelters, championed by Senator Scott Wiener in SB 48.
Housing California is encouraged by this successful budget year and looks forward to working with the Governor and Legislature to continue progress in addressing housing affordability and homelessness in future budgets.
For more information on budget appropriations outlined above and other policy changes enacted in the housing trailer bill, see our budget summary.
Sponsored Bills
AB 10 (Chiu) Expanding the California Low-Income Housing Tax Credit Program:
Passed Senate Housing. Currently in Senate Government and Finance Committee.
This bill increases state Low-Income Housing Tax Credit Program funding beginning in 2020 by an additional $500 million.
AB 307 (Reyes) Homeless Youth Grant Program:
Passed Senate Human Services and Housing Committees unanimously. Currently in Senate Appropriations Committee.
A grant program to provide housing for youth experiencing homelessness.
SB 282 (Beall) Supportive Housing for People on Parole Experiencing Homelessness:
Passed out of Assembly Public Safety and Housing and Community Development with no "no" votes. Currently in Assembly Appropriations Committee
A grant program for counties to provide supportive housing for people on parole with a mental illness who are homeless.
SB 361 (Mitchell) Health Home Program Clean-Up:
Passed Assembly Health Committee unanimously. Currently in Assembly Appropriations Committee.
In 2013, Governor Brown signed AB 361 (Mitchell), which authorized the state to take advantage of an Affordable Care Act optional Medi-Cal benefit, now referred to as the Health Home Program (HHP). This clean-up legislation would remove language around restricting state funding and also make the program more meaningful.​
SB 329 (Mitchell) Source of Income Discrimination:
Passed Assembly Housing and Community Development and Judiciary Committees. Currently in Assembly Appropriations on Suspense File.
Ends discrimination against housing voucher holders by prohibiting landlords from keeping voucher holders from applying for available rental housing simply because of their source of income.​
ACA 1 (Aguiar-Curry) Affordable Housing and Public Infrastructure Voter Approval:
Awaiting Floor Vote in Assembly. Needs 2/3 of Assembly to pass.
This bill would place on the 2020 ballot the opportunity to reduce the local vote threshold for approval of bond and special tax measures to fund the construction, reconstruction, rehabilitation, or replacement of infrastructure, including affordable housing, from a two-thirds vote to a 55% majority.
SCA 1 (Allen) Repeal Article 34:
Passed first 2 committee hearings. Has 1 more committee hearing and needs 2/3 of Senate to move to Assembly (not subject to deadlines).
Would repeal Article 34 of the California Constitution, which currently prohibits the development, construction, or acquisition of an affordable housing development in any manner by any state public body until a majority of the qualified electors of the jurisdiction where the housing development is proposed approve the project by voting in favor at an election.
Supported Bills
See our website for a complete a list of our supported bills.
Save on energy and benefit your tenants with SOMAH
The Solar on Multifamily Affordable Housing (SOMAH) program provides up to $100 million a year for solar on multifamily housing serving low-income communities throughout California. Incentives are available for up to 100% of your project costs. SOMAH also provides technical assistance, tenant education and more. Get started today at CalSOMAH.org.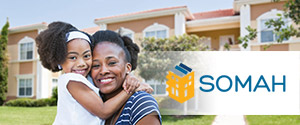 HCD Issues New Guidelines and NOFA for MHP
The Department of Housing and Community Development released final guidelines and the 2019 first round Notice of Funding Availability (NOFA) for the Multifamily Housing Program (MHP). MHP is a program that assists with the new construction, rehabilitation and preservation of permanent and transitional rental housing for lower income households. The $178 million NOFA is the first in a series of NOFAs over the coming years that resulted from the passage of Proposition 1 in November 2018.
Housing California was excited to see included in the final guidelines a bonus given for inclusion of at least 10% of units restricted to homeless households. This exciting shift could lead to more units dedicated to serving people experiencing homelessness and codifies the state's commitment to serving our most vulnerable Californians. Applications for this program are due August 20, 2019
Governor appoints Homeless and Supportive Housing Task Force members
Governor Newsom announced the members of a task force that will advise the administration on solutions and best practices to address homelessness in California. Included in this task force, which will be led by Mayor Darrell Steinberg (Sacramento) and Supervisor Mark Ridley-Thomas (Los Angeles County), are Housing California partner organization representatives Sharon Rapport from the Corporation for Supportive Housing, Anya Lawler from Western Center on Law and Poverty, and Frank Mecca of the County Welfare Directors Association. The group will hold the first of 3 regional convenings in August in San Joaquin Valley. The other convenings will take place in Southern and Northern California. The task force will study best practices from throughout the state to address homelessness and guide local jurisdictions in developing regional plans.
Housing California looks forward to engaging with this group of leaders and discussing best practices in addressing this pressing humanitarian crisis. As homelessness continues to grow in communities throughout our state, it is even more pressing that we develop best practices and strategies to create regional collaboration and provide housing to the over 130,000 Californians experiencing homelessness on any given night.
Out of Reach 2019
The National Low Income Housing Coalition has released the Out of Reach 2019 report. Out of Reach documents the significant gap between renters' wages and the cost of rental housing across the United States. The report's central statistic, the Housing Wage, is an estimate of the hourly wage a full-time worker must earn to afford a modest rental home at HUD's fair market rent (FMR) without spending more than 30% of his or her income on housing costs, the accepted standard of affordability. The FMR is an estimate of what a family moving today can expect to pay for a modestly priced rental home in a given area.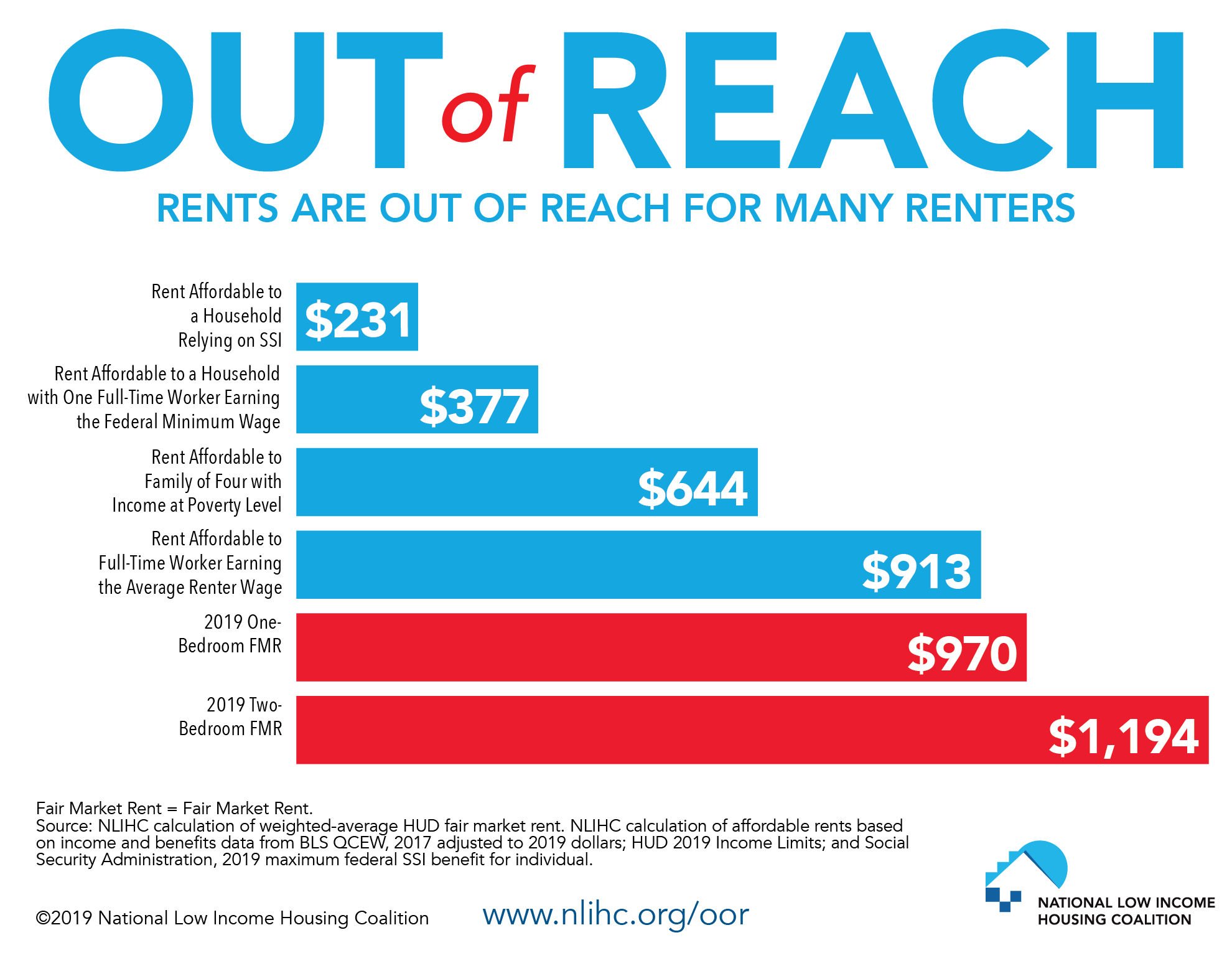 #KeepFamiliesTogether
Housing California submitted comments opposing a proposed rule by the U.S. Department of Housing and Urban Development (HUD) that would prohibit "mixed-status" families from living in federally funded affordable housing. If implemented, the rule would result in the displacement of thousands of immigrant families across the country and disproportionately affect California families. We urge HUD to immediately withdraw its current proposal and to dedicate its efforts to advancing policies that strengthen—rather than undermine—the ability of immigrants to support themselves and their families in the future. Learn more at www.keep-families-together.org.
Housing California Update
Welcome Our New Lead Statewide Organizer
Tori Truscheit is joining Housing California as the Lead Statewide Organizer. Most recently, she served as the Solidarity Manager at Sacred Heart Community Service in San Jose, where she organized food bank volunteers to support housing and immigration justice. Tori was the lead organizer and a founding member of the San Jose chapter of Showing Up for Racial Justice, where she won a 2019 campaign to make sanctuary protections for Santa Clara County immigrants the strongest in the country.
In the South Bay, Tori organized homeowners and renters for tenants' rights and low-income gardeners for increased access to organic food. Previously, in New York City, she organized teachers around state evaluations after time as a public middle school teacher and education policy researcher.
Tori received a B.A. in English from Yale University and a Master's in teaching from Pace University. She is also a freelance journalist, reporting on LGBT issues for outlets like Buzzfeed.
Welcome RUN's New Community Outreach Coordinator
Carlos Aviles, a recent graduate from UC Irvine, has joined Housing California as part of the UC Riverside Center for Social Innovation Fellowship. In collaboration with Housing California's Southern California partners, Carlos will serve as the Inland Empire Community Outreach Coordinator. In this position, Carlos will help expand community engagement within the Inland Empire to support the establishment of our Residents United Network (RUN) and raise awareness about the growing need for affordable housing and solutions to end the housing affordability and homelessness crisis. Previously, Carlos lived in Washington D.C. as part of the Congressional Hispanic Caucus Institute, where he learned how legislation is developed at the United States House of Representatives and how these policies shape our communities.
Contact Us
Housing California
1107 9th Street, Suite 560
Sacramento, California 95814
916-447-0503
staff@housingca.org