"Every moment is an organizing opportunity, every person a potential activist, every minute a chance to change the world."
– Dolores Huerta
Dear Friends, Partners, and Allies,
We are so excited about Housing California and RUN's Lobby Days which will start today and run through this Thursday. In the days leading up to the event, I spent time reflecting on the idea of building power. During the past several weeks, we have trained over 120 resident leaders, homelessness service providers, affordable housing developers and other allies representing over 118 zip codes across California to effectively advocate for key bills and share their personal stories with legislators. Together we are ready to promote solutions that will create affordable homes for Californians struggling the most. We are galvanized in our conviction that home is essential to the health of our loved ones, families, friends, and neighbors. Our fight for housing justice is always about the people.

Recognizing the impact of California's housing crisis on Black and brown people in particular, we are eager to create the system change and structural reform needed for everyone to thrive in our state. We have seen how communities of color have been disproportionately impacted by the COVID-19 pandemic and we know that bold policy change can not only bring much-needed immediate relief but also lay the foundation for economic and racial justice for future generations. Nowhere is this more apparent than in the Roadmap HOME 2030 — a comprehensive plan to end homelessness and create stable, affordable homes for all Californians in thriving communities. Please join Housing California and our partners across the state for the official launch of the Roadmap Home 2030 on March 25th. The decisions we make today will determine California's future for generations to come.

Cesar Chavez, whose day of remembrance is March 31st, once said, "If you want to remember me, organize!" Let us celebrate his legacy by leveraging our power to gather and speak in support of those struggling the most. And amid Women's History Month, we recall the courage of so many women ‒ women like Dolores Huerta and our own RUN leaders ‒ who are taking a moment as activists to manifest change in the world. We are deeply grateful to all who join the movement and help to create a brighter future with homes, health, and prosperity for all.

In solidarity, strength, and gratitude,

Lisa Hershey
Executive Director
Support the Housing Justice Movement
Activism is taking action to make our world a better place for all of our loved ones, neighbors, and friends. Please help Housing California create a California with homes, health, and prosperity for all in thriving communities by making a donation or joining as a member. Be our partner in the work.
Save the Date for Housing California's Virtual Un-Conference: June 22 - 24
It's the concerted efforts of brilliant minds, open hearts, and the unyielding commitment of our co-conspirators that will open the door to new opportunities and future successes in our housing justice movement, and your participation is the key!Mark your calendar! Do you have a great idea for a speaker or a topic? Take our survey and share your thoughts.
Stay tuned – we'll send you more details over the coming weeks.
We're Hiring: Join the Housing California Team!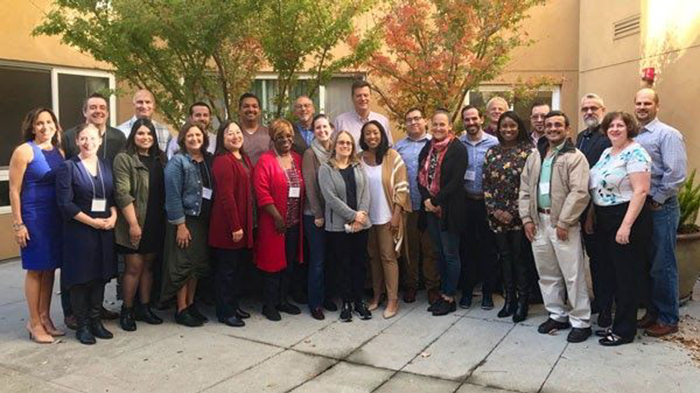 Join the Housing CA team and apply your skills, talents, and passion towards advancing racial justice and building a California with homes, health, and prosperity for all. We are currently recruiting candidates with a proven ability to advance transformative statewide policy strategically and collaboratively to fill two open positions: Legislative Advocate for Homelessness and Legislative Advocate for Land Use and Finance. Apply today, or help spread the word.
Roadmap HOME 2030 officially Launches the Campaign
On March 25 at 12:00 PM, Housing California, the California Housing Partnership, and partners across the state will release the Roadmap Home 2030 and kick off the campaign. Sign up for the launch event.

The Roadmap Home is a comprehensive framework of equity-centered, evidence-based policy solutions that, over the next ten years, will create 1.2 million affordable homes, protect 1 million renter households from losing their homes, end homelessness for more than 150,000 Californians who are unhoused every night, and close racial equity gaps in housing and homelessness.
KPIX (CBS in San Francisco) recently aired a piece on California's Roadmap HOME 2030 and featured Residents United Network leaders Zella Knight and Willie Stevens, California Housing Partnership Executive Director Matt Schwartz, and our own Executive Director Lisa Hershey. Check out the segment!
Member Spotlight
As we at Housing California work with various members in our housing ecosystem, each member has a story to tell about why they feel passionate about ending homelessness in our state. While they help shape the narrative, they are also an integral part of it. In honor of their contributions, we will periodically tell their stories and share their perspectives in the coming months. In this issue, we start with one of our closest partners. Members of Housing CA's Residents United Network (RUN) are the lifeblood of the organization. They bravely share their stories with our lawmakers, bringing lived expertise and humanity to policy conversations. We are deeply grateful for their courage and commitment to our mission and most importantly to those at-risk or currently experiencing homelessness.
As we start Housing CA and RUN's Lobby Days at the State Capitol today, we are excited to introduce you to one of RUN's most active members, Verica Mancich.

READ MORE
Our First Virtual Lobby Days: March 16-18
We are thrilled to host our first virtual Lobby Days over the next few days. Together, we are ready to make our voices heard as we advocate for policies that we know will help end homelessness and provide more affordable homes throughout California.
RUN leaders and allies will urge lawmakers to support Assembly Bill 71 and Assembly Bill 328 — learn more about these proposals by jumping down to our policy section below. You can support Lobby Day participants by spreading the word about the event on social media through Thursday. Follow us on Twitter at #LobbyDays2021.
At the State Level
Learn about our State Policy Agenda
At Housing California, we collaborate with diverse multi-sector partners and legislators to identify, draft and support proposals that we know will create more affordable homes and end homelessness in our state.
Join us on this journey by taking a moment to learn about our sponsored bills. And check out our policy agenda for information about these and other bills Housing California supports.
AB 71 (Rivas) - Bring California Home Act
Would create an ongoing revenue source to address homelessness and is supported by the Bring California Home coalition.

AB 328 (Chiu) - Reentry Housing Program


Would establish the Re-entry Housing Program by reallocating cost savings from recent and future prison closures towards housing and supportive services for formerly incarcerated people.



AB 816 (Chiu) - Homelessness Accountability and Needs Assessment


Would require the Homeless Coordinating and Financing Council to conduct a statewide homelessness needs and gaps analysis, establish an Office of the Housing and Homelessness Inspector General, and require state and local agencies to conduct a needs and gaps analysis and set concrete goals for reducing homelessness.
AB 1375 (Bloom) - Acquisition of Distressed Multifamily Housing
Would remove barriers to the acquisition of distressed multifamily properties by affordable housing operators, community land trusts, resident organizations, and other mission-driven entities that will turn the properties into deed-restricted affordable housing.

SB 490 - (Caballero) Housing Acquisition and Rehabilitation Technical Assistance Program


Would create a technical assistance program to provide capacity and expertise to local governments and housing organizations to engage in the acquisition, rehabilitation, and preservation of unsubsidized affordable housing.

New Vaccine Eligibility Guidance for People Experiencing Homelessness
The California Department of Public Health released critical new guidance expanding the eligibility for the COVID-19 vaccine to include all individuals who reside or work in a high risk congregate residential setting. This includes all people experiencing homelessness, who are at risk of transitioning into congregate settings at short notice. Housing California is honored to have worked with our multi-sector partners to secure this critical change.
At the Federal Level
Relief is on the way: COVID Stimulus Plan
We advocated for, Congress has passed, and President Biden has signed into law, the "American Rescue Plan Act" (ARPA), which includes $21.55 billion in emergency rent assistance, $5 billion for emergency housing vouchers, $750 million for tribal housing needs, $100 million for rural housing programs, and $5 billion for homelessness interventions and long-term support services. The ARPA bill also includes $9.96 billion for homeowner assistance and $100 million for housing counseling.
We are very excited about the passage of the ARPA, grateful to see the federal government taking meaningful action, and committed to partnering with our state and local partners to ensure equitable implementation of these resources to tackle homelessness and housing insecurity across the country.
Best Wishes to a long-time Housing California Partner
Tia Boatman Patterson, a long-time Housing California partner and former executive director of the California Housing Finance Agency (CalHFA), is joining the Biden-Harris administration, specifically the White House Office of Management and Budget as the associate director for Housing, Treasury and Commerce. Over the years, she has served as a guiding and steadfast force at CalHFA where she secured billions in loans enabling thousands of low-income Californians to find and buy affordable homes. In a recent tweet on February 26, Ms. Boatman Patterson shared, "It's been my honor to serve CA and work with so many amazing partners to help more low- and moderate-income residents find a place to call home through homeownership or in affordable rental housing." To learn more, click here.
We are deeply grateful for Ms. Boatman Patterson's leadership and partnership through the years, and wish her well as she moves into the next chapter of her career, and look forward to continuing our partnership in her new role.
Housing California
1107 9th Street, Suite 560 | Sacramento, California 95814
916-447-0503 | staff@housingca.org